Courtesy of Travel Market Report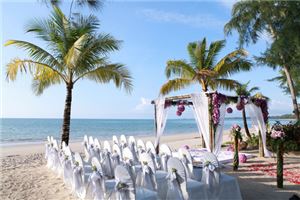 Hotels, resorts and tourism boards are romancing the destination wedding market. But while the payoff for travel agents is potentially huge, the playing field is more complicated than ever.

That's the message Rebecca Grinnals, president of Engaging Concepts, gave participants in the recent Romance Travel Summit, a multi-day online conference sponsored by the Destination Wedding & Honeymoon Specialists Association (DWHSA).

A top industry consultant—she co-founded Disney's Fairy Tale Weddings & Honeymoons—Grinnals detailed the trends, facts and figures every romance travel specialist should know.

Here are some highlights.

Incremental business
The good news for agents is that destination weddings are a great source of future business.

"Lots of agents focus on romance travel for a couple," said Grinnals. "But the majority of couples feel it's important for their guests to walk away saying it's the best wedding they've ever attended.

"Do a good job for the bride and groom and you could get 75 potential clients," Grinnals said.

The old adage about "always a bridesmaid" isn't always true, she added.

"The average wedding has five bridesmaids and three of them are either engaged or will be engaged within the next year. Think of every wedding as a robust business opportunity," said Grinnals.

Focus on millennials
Millennials, born between 1979 and 2000, are today's brides and grooms. Though we may think of them as "kids," the older millennials are already in their mid-thirties.

It's important to understand how millennials research, make decisions, purchase and consume, according to Grinnals. They're different from prior generations in a number of ways, she added.

Millennials for example:

• Value peer feedback and don't make decisions on the fly. They crowd source and seek input from friends and family.

• Grew up fairly sheltered. Many moved back home after college so even though their parents may not be paying for the wedding, they still seek advice from their folks.

• Want immediate responses to email; that means within one hour, not 24. Make arrangements to have someone cover your emails if you can't be available.

• Don't consider wedding planning to be a "bride thing" only. More than 65% of grooms are actively involved in planning. It's also best to ditch the word "bride" in marketing in favor of "couple."

All about fun
Grinnals had another takeaway for agents that's simple, but effective: Don't forget the fun.

"Surveys tell us that fun is the number one thing couples want, especially in a destination wedding," she said.

"Planning a wedding is the most stressful thing the couple has probably ever done. If you can help them with that one missing element, you'll be doing them a service."

Grinnals advised agents to inject an element of fun in their sales and marketing approach.

"I work with the Cayman Islands, where beach weddings are big," she said. "One trend is to give everyone mini beach balls to blow up and then toss at the bride and groom after the ceremony.

"If you have photos of something like that on your website it can really spark interest in a potential client."

Customizing is crucial
Also important to today's couples is having a wedding that reflects their own style and uniqueness.

"Nearly all couples say that personalization is very important. They don't want a package wedding off the shelf," Grinnals said.

"The days when you can simply recommend the 'free wedding' from the all-inclusive are over."
Planning A Destination Wedding? Keep These Tips In Mind

Wedding industry consultant Rebecca Grinnals has these tips for romance travel specialists:

• One size does not fit all. Couples are more diverse than ever and your website should reflect that. Show photos and have testimonials from as many different couples and their weddings as possible including styles, sizes, ages, shapes and colors.

• The "Encore Wedding" business is growing. Some 43% of all weddings are second marriages while 65% include children. Couples aren't downplaying second marriages like they used to.

• Vow renewals are taking place much earlier, like the twentieth anniversary. Staying married is hard and couples want recognition for it.

• Elaborate intimate weddings are an emerging trend. Even elopements for only the couple and a few guests, can be sumptuous affairs.

• Weddings are social! Couples aren't without their phones any second of the day and that includes their wedding day. Apps such as Appy Couple are designed for weddings.

• Pinterest can be a tremendous vehicle for agents. It's the most popular social platform for wedding planning.

• Destination engagements are also a trend. Family and friends often tag along to help celebrate a surprise engagement.